HOURS
Mon: 10:00am - 7:00pm
Tue:  10:00am - 7:00pm 
Wed: 10:00am - 8:00pm
Thu:  10:00am - 7:00pm
Fri:    10:00am - 7:00pm
Sat:   10:00am - 5:00pm
Sun:  12:00pm - 5:00pm
Strand's Ski Shop in Worcester, MA has a huge selection of ski and snowboard equipment and accessories, ski apparel, helmets, boots, bindings and more. Our experienced and trained staff also offer a variety of services including expert custom boot fitting, tune-ups, binding mounting and repairs.
UPDATES!
DURING THESE TRYING TIMES WE PLEASE ASK YOU TO FOLLOW THE COMMONWEALTH OF MASSACHUSEETS REQUIREMENT OF WEARING A FACE COVERING UPON ENTERING THE STORE. THANK YOU. WE WANT ALL TO BE SAFE, SO WE CAN SEE YOU ON THE SLOPES. IF YOU HAVE QUESTIONS OR CONCERNS ABOUT COMING INTO THE STORE PLEASE CALL US AT (508) 852-4333.
THE 2020-2021 SEASON IS APPROACHING!
This Weekend November 20th, 21st, and 22nd Nordica Enforcer 93 and Santa Ana 93 on sale For $450 from $650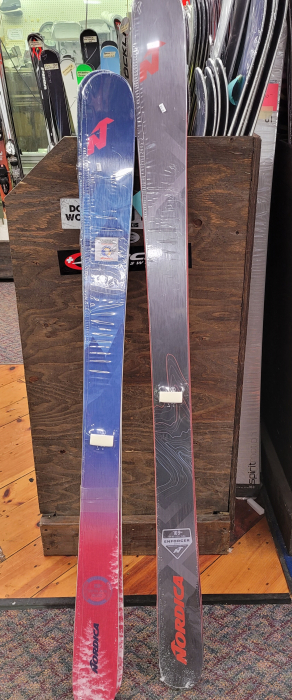 Do you have everything you need for the start of the season? If not, come on in and we will get you into the correct equipment. We are getting deliveries of this years product every day and now is the best time to get what you're looking for. We have a good selection of leftover equipment at incredible prices. 
Skis need a tune up, or the bindings need to be tested, now is the time to bring them in (bring both ski boots for binding adjustments) before the start of the season. Snowboard edges looking a little rusty or dull, bring it in and get that board a tune up.
Tune up - $50
Binding Remount- $50: Binding adjustment (incl. adjust & computer test) - $30 : Binding Test only $15
Strand's trade in program:
Looking to buy new equipment, but not sure what to do with your old gear. If your equipment is within 4 years old, we will take it in trade towards the purchase of new equipment. We take skis, ski boots, snowboards and snowboard boots. We only accept one item towards one item (ie: skis for skis/boots for boots)